Thermastore
Insulated Garages & Sheds
If you are looking for an Insulated Steel Garage or Shed the Thermastore is the ideal solution. The Thermastore is a step up from the Durastore range, this selection is constructed with fully insulated walls and roof panels.  While retaining the same robust construction as our Durastore models, these easily heated units have the added advantage of retaining heat.  This insulation creates a dryer and more comfortable environment for use as workshops and hobby spaces along with being an ideal storage area for your more valuable goods such as cars, vintage vehicles, electrical items and household furniture.  A rebated concrete base is required for a Thermastore Insulated Steel Garage & Shed. 
BETTER BUILT BY ADMAN
Insulated walls & roof: constructed using 40mm Kingspan insulated sandwich panel throughout.
Heavy duty materials: heavy duty galvanised structural steel framework combined with fabricated centre support beams for maximum strength.
Superior finishes: safe edge folds on all exterior flashings; external screws finished with protective colour caps and non-drip roof sheeting.
PVC gutters & downpipes fitted to all Durastore buildings
Maintenance free exterior: PVC coated in a choice of colours.
Window & door options: roller garage doors, steel pedestrian and double opening doors, steel security and double glazed PVC pedestrian doors and choice of windows.
Natural light: optional UV protected polycarbonate clear roof panels positioned on either side of the roof.
Smart storage options: such as bike and tool racks, workbenches and shelving units.
The Thermastore Insulated Steel Garage and Shed is Made to order in our Manufacturing Facility in Co. Wexford 
Choice of colour & sizes to suit your needs.
Widths: 3.1m, 4.1m, 5.1m, 6.1m, 7.1m, 8.1m, 9.1m
Lengths:  5.3m, 6.3m, 7.3m, 8.sm, 9.3m….
Wall height: 2.1m, 2.5m, 3.1m
Prices from €4,250 – Continue scrolling down for full breakdown of price and size options  
Pick your Shed Colour
Select your preferred colours above to see how your shed will look.
Colours shown in images are indicative colours only and may change depending on screen resolution.
---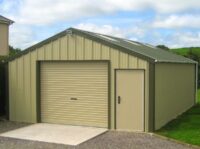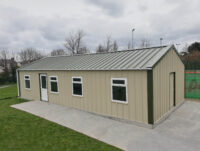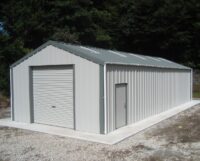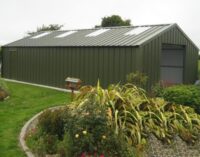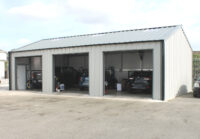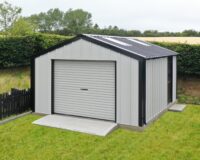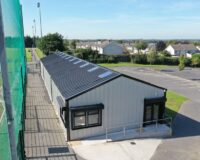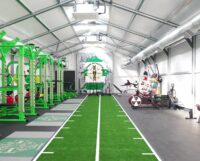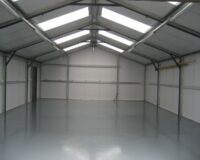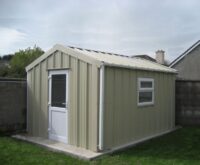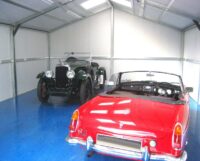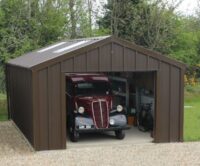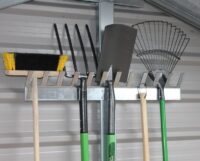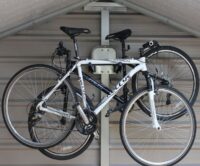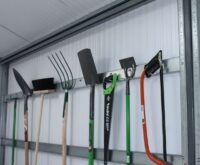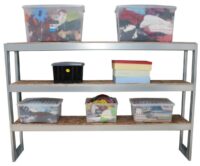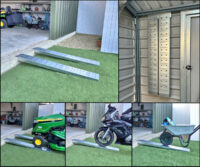 Sizes to Suit your Needs
Choose the perfect size for your needs. The Adman Thermastore Garage is made to order in a selection of sizes.


Dimensions (Width x Length)
Shed Heights (Ridge height down to wall height)
Standard shed
3.1m x 3.3m (10' X 10')
9' down to 7"
€4,250
3.1m x 4.3m (10' X 14')
9' down to 7"
€4,750
3.1m x 5.3m (10' X 17')
9' down to 7"
€5,450
3.1m x 6.3m (10' X 20')
9' down to 7"
€6,050
Prices above are for standard Thermastore garden sheds which include insulated clear roof sections and pvc guttering. Included is a choice of a roller garage door, a steel security door or a double glazed pvc door.
4.1m x 5.3m (13'6" X 17')
9'6" down to 7"
€6,850
4.1m x 6.3m (13'6" X 20')
9'6" down to 7"
€7,600
4.1m x 9.3m (13'6" X 30')
9'6" down to 7"
€9,700
5.1m x 6.3m (17' X 20')
10' down to 7"
€9,100
5.1m x 9.3m (17' X 30')
10' down to 7"
€11,600
5.1m x 12.3m (17' X 40')
10' down to 7"
€13,950
6.1m x 6.3m (20' X 20')
10'6" down to 7"
€10,500
6.1m x 9.3m (20' X 30')
10'6" down to 7"
€13,100
6.1m x 12.3m (20' X 40')
10'6" down to 7"
€15,950
6.1m x 15.3m (20' X 50')
10'6" down to 7"
€18,800
Prices above are for standard Thermastore Garages which include roller garage door, insulated clear roof sections and pvc guttering.
Optional Extras for your Adman Garden Shed
Choose from a selection of optional extras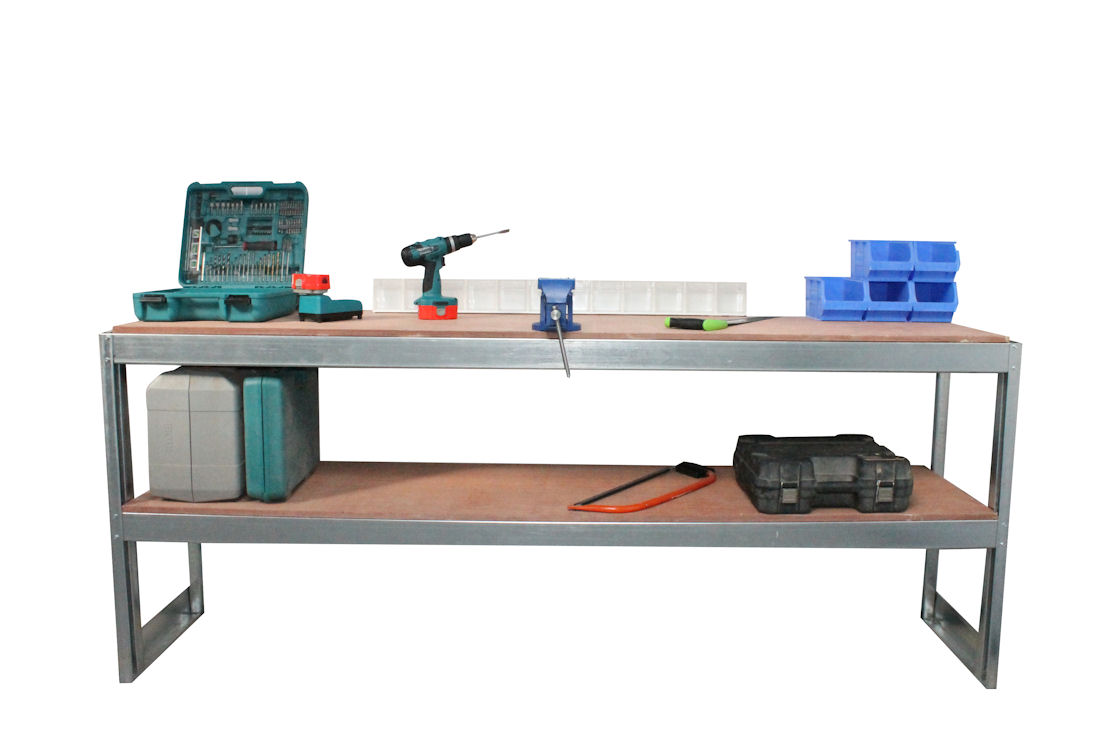 8ft HEAVY DUTY WORK BENCH & VICE
€

259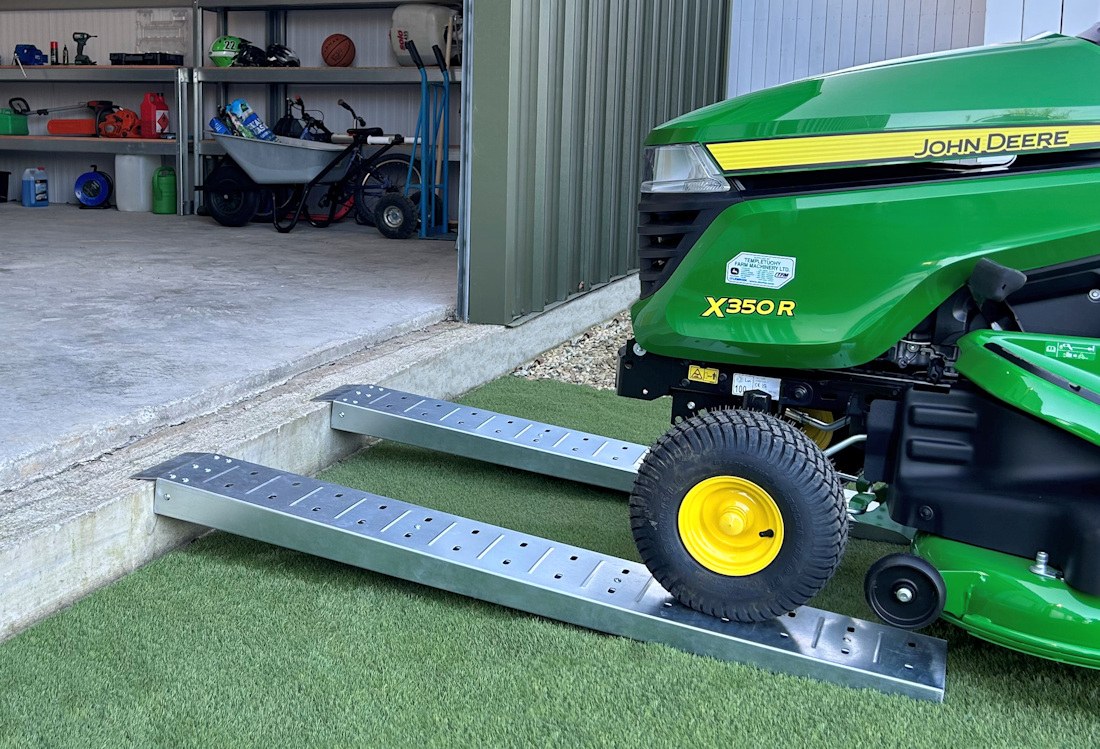 MULTIPURPOSE RAMPS
€

179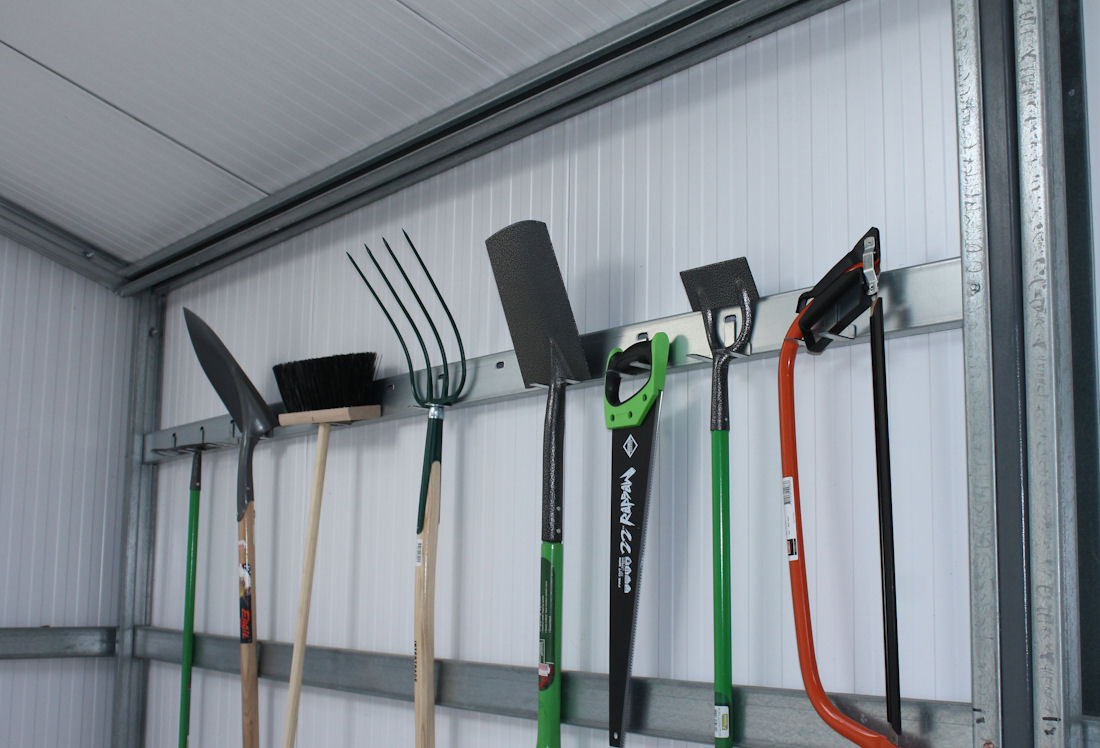 ADJUSTABLE GARDEN TOOL RACK
€

59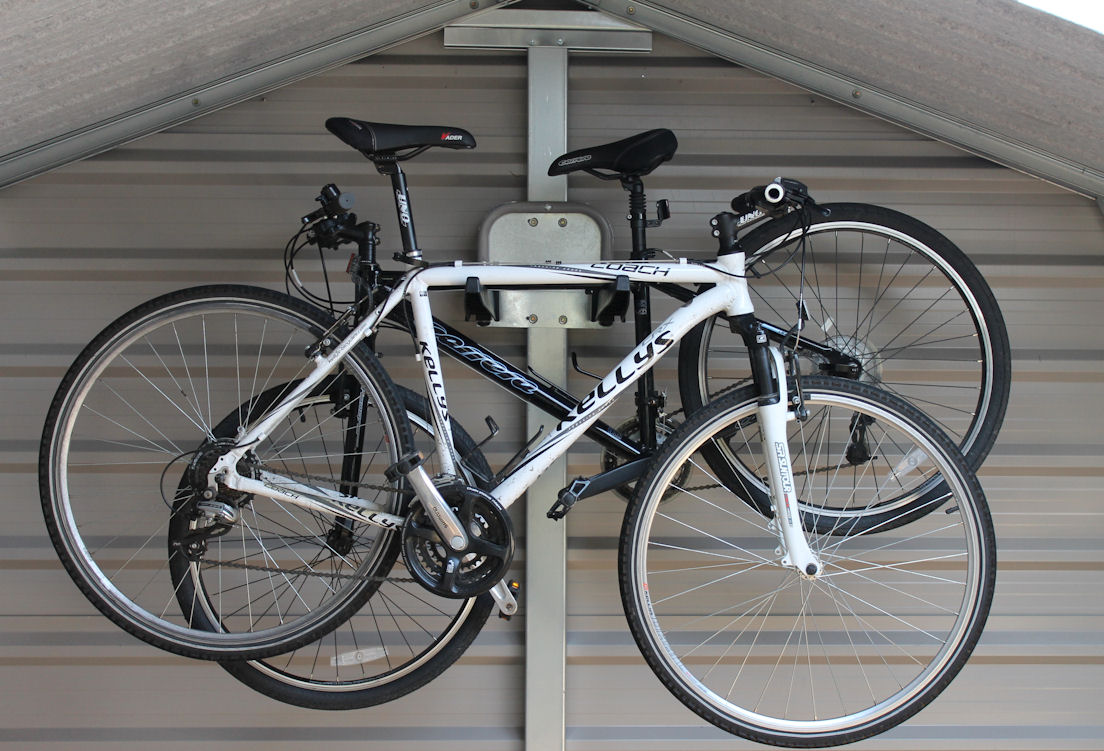 BICYCLE RACK
€

49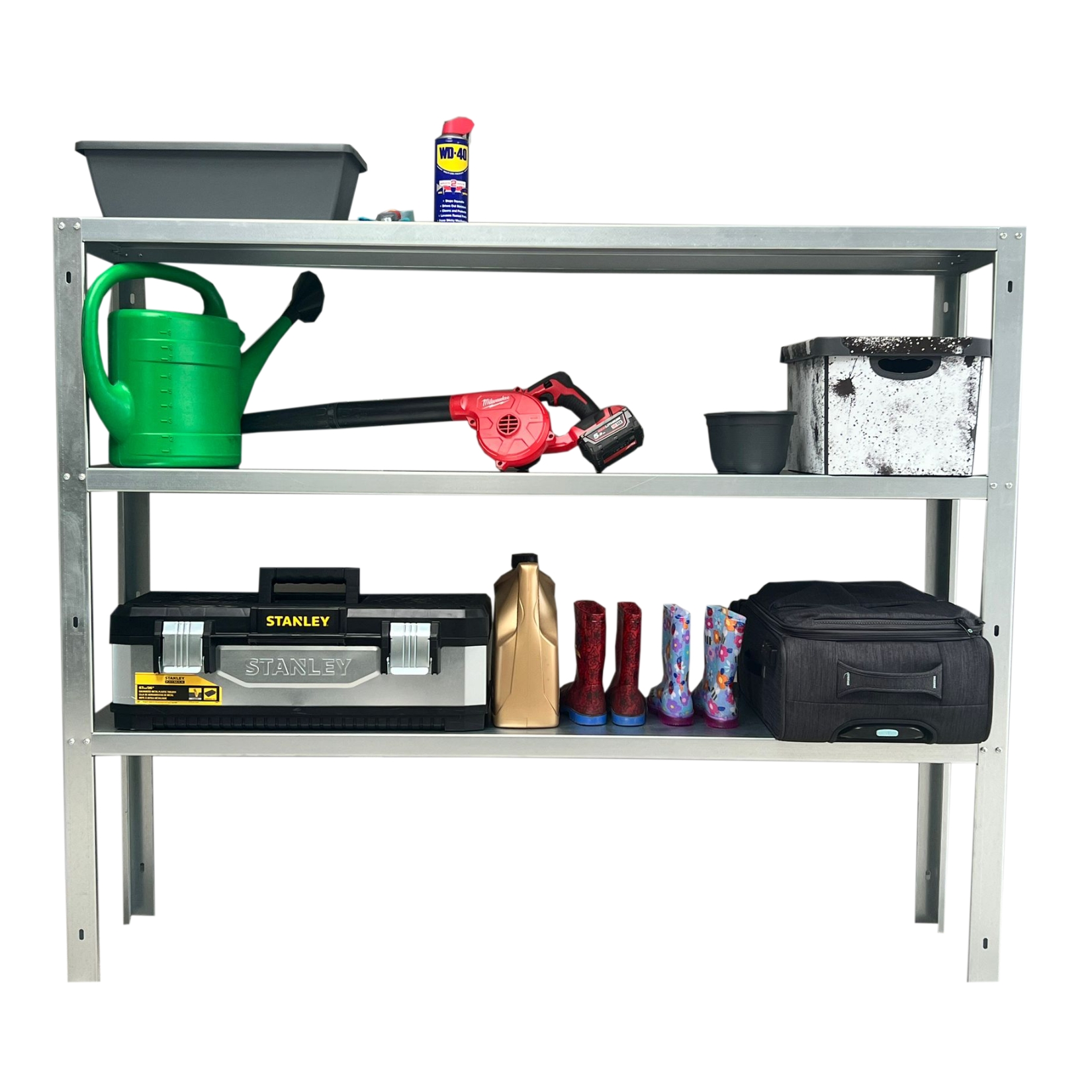 8ft HEAVY DUTY SHELVING UNIT
€

199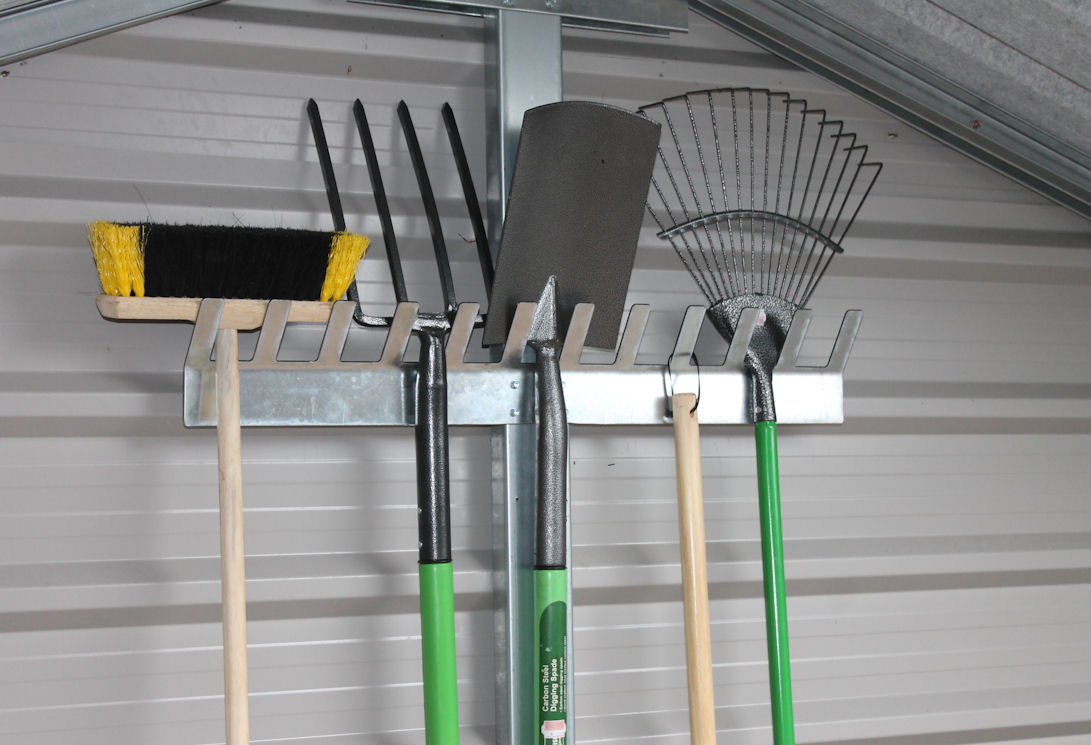 GARDEN TOOL RACK
€

29
Why choose the Adman Thermastore
Here are just some of the reasons to chooses the Adman Thermastore garden sheds & garages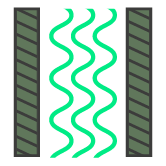 INSULATED SURFACES
Walls & roof are insulated using 40mm kingspan sandwich panel throughout.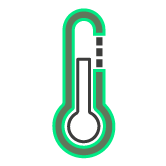 EASILY HEATED
Suitable as a workshop or hobby space as heat is retained.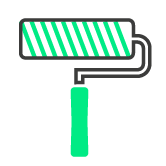 WALL PANELLING
Interior is finished in a white, smooth, easy to clean maintenance free metal surface. Exterior is PVC coated in a choice of colours.
Ordering your Adman Steel Shed is Easy
Just follow the three simple steps below.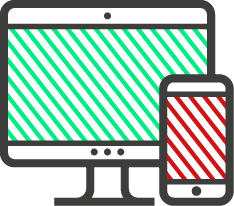 STEP 1: CALL OR EMAIL US
(053) 943 0001
info@admansteelsheds.ie
We will endeavour to answer your queries over the phone and give you a quote within three minutes. Alternatively please email us with your query and a member of our team will come back to you.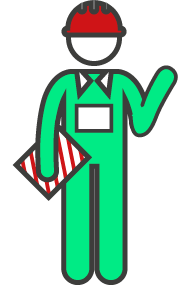 STEP 2: REQUEST A VISIT
We can arrange for one of our Sales staff to carry out a site visit and explain everything in detail. This is a free service so if you are uncertain about site access, base requirements and pricing, positioning of your shed or even colours please avail of it.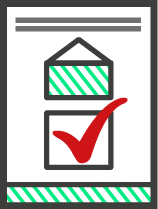 STEP 3: PLACE YOUR ORDER
Once your site visit is completed and you are happy to proceed with ordering, a member of our Sales team will complete an order form detailing the size, layout, colour, agreed fitting date etc. To complete and secure the order a booking deposit is then required.
YOU MIGHT BE ALSO INTERESTED