Essential Items to Store in Your Garden Shed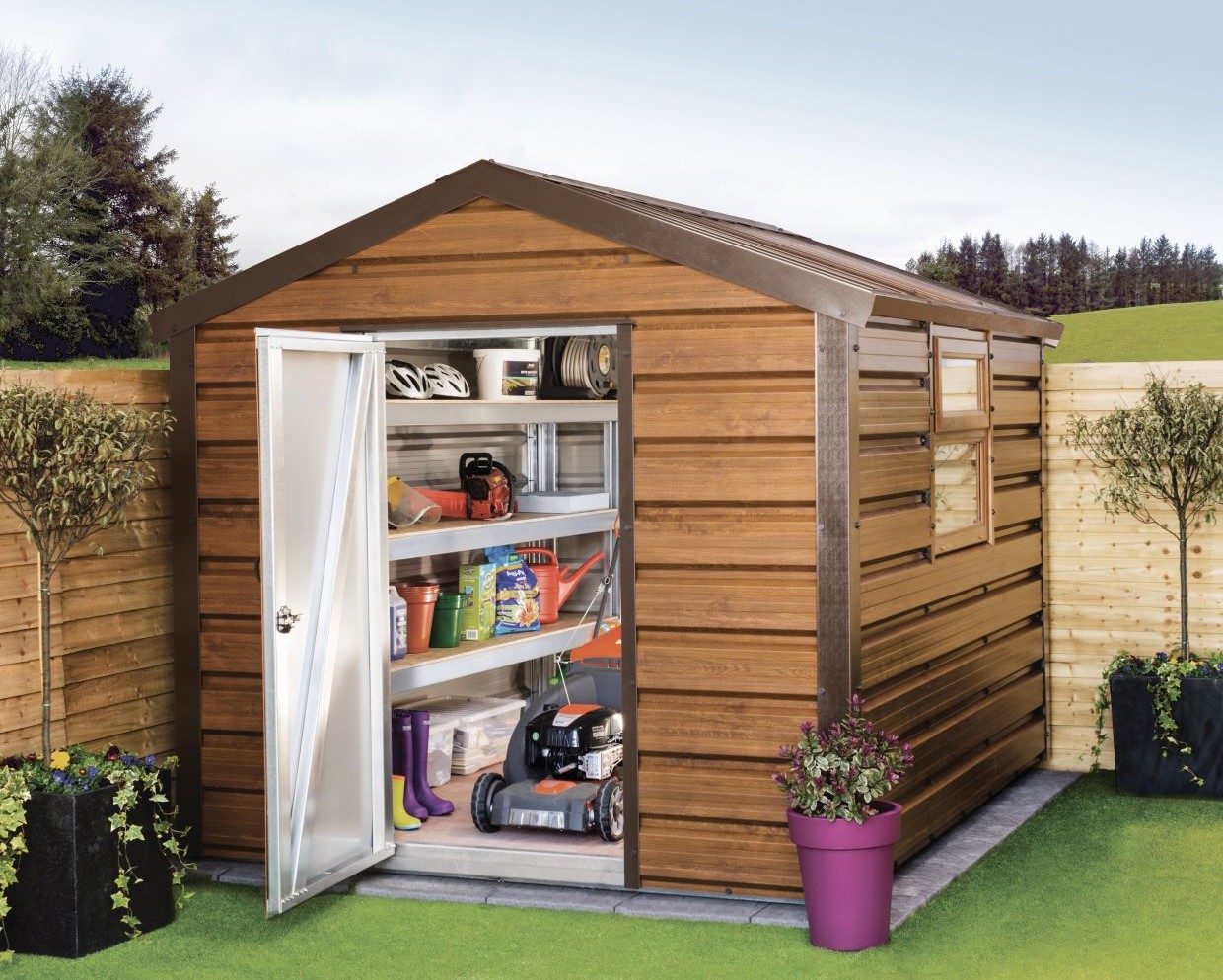 Essential Items to Store in Your Garden Shed
A garden shed is a valuable asset for any gardening enthusiast or homeowner. It provides a dedicated space to store tools, equipment, and supplies, keeping your garden organized and your tools easily accessible. However, deciding what to store in your garden shed can sometimes be a daunting task. In this blog post, we will explore essential items that you should consider storing in your garden shed to ensure you have everything you need to maintain a beautiful and functional garden.
Garden Tools:
A garden shed is the perfect place to store your collection of garden tools. These may include shovels, rakes, hoes, spades, trowels, pruners, shears, and wheelbarrows. Hanging tools on the shed wall using our tool rack can help keep them organized and easily accessible when you need them.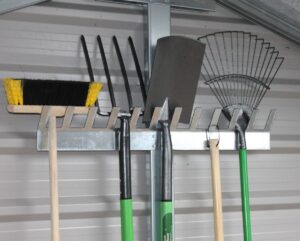 Potting Supplies:
If you enjoy container gardening or working with potted plants, keeping potting supplies in your shed is essential. Store items like pots, potting soil, fertilizer, gloves, and watering cans in a designated area. This way, you can quickly gather your supplies and create beautiful plant arrangements whenever the inspiration strikes.
Lawn Equipment:
For those with a lawn to maintain, storing lawn equipment in your garden shed is practical. This includes items like lawnmowers, edgers, trimmers, and leaf blowers. Ensure these machines are cleaned and properly stored to prolong their lifespan and prevent damage.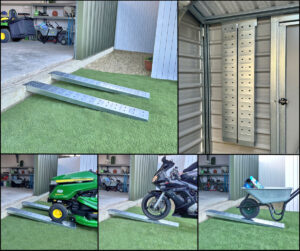 Protective Gear:
Gardening often involves tasks that require protective gear. Keep a set of gardening gloves, safety goggles, knee pads, and sturdy shoes in your shed. Having these items readily available will encourage safe gardening practices and prevent injuries.
Garden Supplies:
Store an assortment of garden supplies in your shed to make your gardening tasks more efficient. This may include plant supports, trellises, stakes, twine, and garden netting. These items can help with training plants, providing support, and protecting them from pests.
Seed Storage:
If you save and store seeds from your garden or purchase them in bulk, your shed is an ideal place to keep them. Use airtight containers or seed storage boxes to ensure the seeds remain dry and viable for future planting seasons.
Outdoor Furniture and Cushions:
If you have outdoor furniture or cushions that need protection from the elements, your garden shed can serve as a safe storage space during the off-season. This will help preserve their quality and prolong their lifespan.
Outdoor Games and Activities:
Consider storing outdoor games, such as frisbees, balls, and other recreational items, in your garden shed. This will keep them organized and easily accessible for family gatherings or outdoor fun.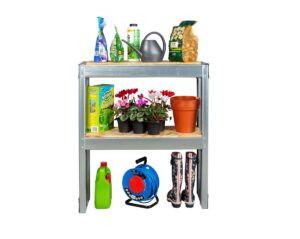 Cleaning Supplies:
Keeping your garden shed clean and organized is essential. Store cleaning supplies such as brooms, dustpans, and brushes to help maintain a tidy shed space.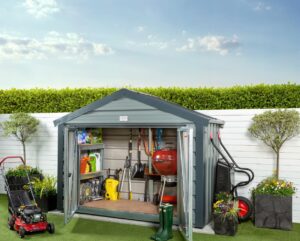 A well-organized garden shed can be a game-changer for any gardener. By storing essential items like garden tools, potting supplies, lawn equipment, protective gear, and other necessary supplies, you can create an efficient and functional workspace. Regularly assess your needs and ensure your shed is well-maintained to make the most of this valuable garden storage space.
All our Garden Sheds have a range of optional extras to enhance your storage facilities including shelving units, tool racks, workbenches and ramps for ease of access for your larger items. 
Back to news
CONTACT ADMAN FOR MORE DETAILS
Adman Steel Head Office
Ballycanew Road
Gorey
Co. Wexford
Ireland
Our normal opening hours are:
Monday to Friday – 8am to 5pm
Saturdays – 10am to 4pm
Sundays and Bank Holiday Mondays – Closed