From Chaos into Order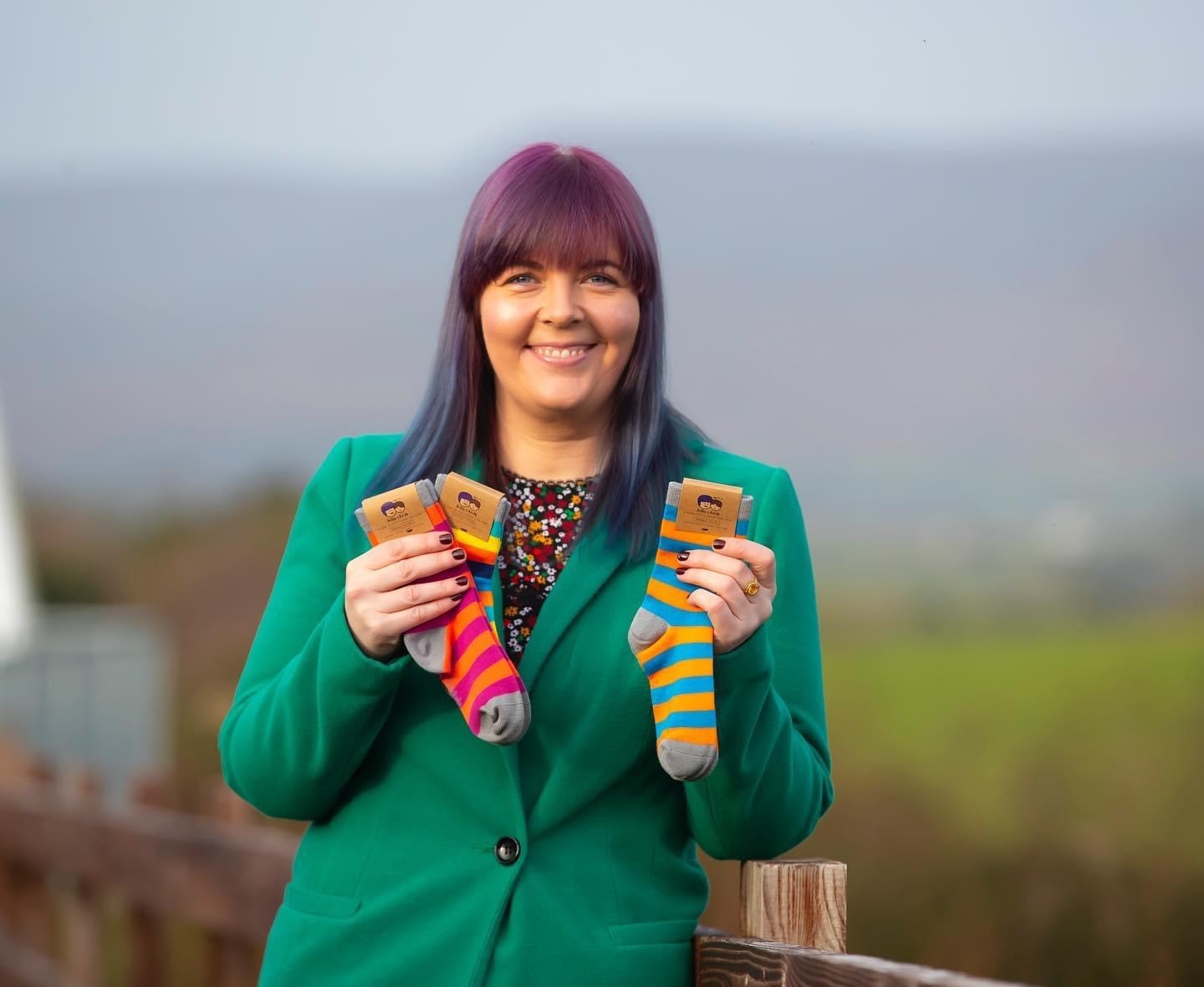 From Chaos into Order
How Adman Steel Sheds played a crucial role in propelling the growth and expansion of Irish business Polly & Andy by offering a secure and ample storage solution (Insulated Steel Garage), improving stock control and management, and fostering a more balanced work-life dynamic.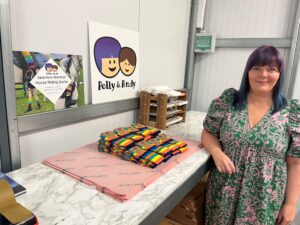 Polly Doyle | Founder of Polly & Andy
Polly is the inspiring founder of Polly & Andy, an Irish business that launched in Summer 2019 and is based in Co. Waterford, Ireland. Her journey began with a heartwarming moment involving her son, Andy, who faced communication challenges as a young child.
One day, as Andy was getting dressed, he excitedly exclaimed, "These ones don't hurt," referring to a pair of soft cotton trousers. This poignant moment sparked a realisation for Polly. She contemplated the struggles of children who have difficulty expressing their comfort needs and became determined to make a difference for them.
After extensive research and a process of trial and error, Polly discovered the perfect solution – bamboo fibre socks. Driven by her belief that everyone deserves comfort, she established Polly & Andy, a brand offering soft-to-touch seamless bamboo socks. These socks not only cater to individuals with sensory issues but also provide an extra level of comfort for anyone in need.
Polly's unwavering commitment to making a positive impact and providing comfort to individuals of all ages is truly inspiring. She has created a brand that not only delivers high-quality products but also embodies a heartfelt mission to ensure that everyone can experience the joy of comfort.
Without a dedicated workspace, Polly encountered significant obstacles as her business quickly outgrew her kitchen table and spare bedroom.
The insufficient storage space resulted in inventory sprawl, causing confusion and making it challenging to locate specific products promptly. The lack of precise stock control led to significant time and process inefficiencies.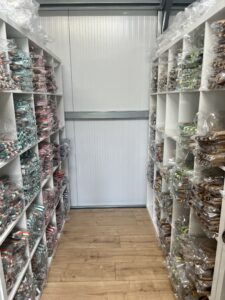 Relying on their kitchen table and spare bedroom as her office space proved unstainable, leaving no room for efficient operations. Polly's home became overwhelmed with stock, disrupting her work-life balance.
The continuous physical exertion involved in heavy lifting and stock handling also added to Polly's workload, while the challenge of managing and tracking scattered stock further strained her productivity.
Acknowledging these obstacles, Polly understood the urgent need for a more suitable workspace solution that could address these issues and provide a solid foundation for her growing business. And that's where Adman Steel Sheds came in.
"My sister has an Adman shed which works great for her, and I thought this is exactly what I need!"
________________________________________
Customised storage solution
With the pressing need for a dedicated workspace and storage solution, Polly reached out to us at her sister's recommendation.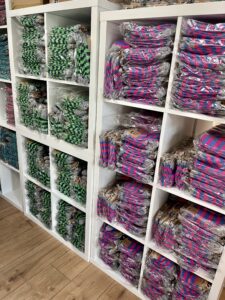 Collaborating closely with Polly, we listened to her specific requirements and created a customised solution tailored to her needs.
Based on the brief, we recommended our bestselling Thermastore Insulated Garage, which offers a secure, spacious and climate-controlled environment, enabling Polly & Andy to efficiently store their bamboo socks, pack orders and seamlessly run their operations from one location.
"To have proper space for stock storage and packing orders has been a game-changer!"
The new Garage space facilitated Polly & Andy's daily activities and provided ample space for stock storage and control, a dedicated packing station for daily orders, two desks for administrative tasks, and a designated area for packing and preparing for markets, retail and trade shows.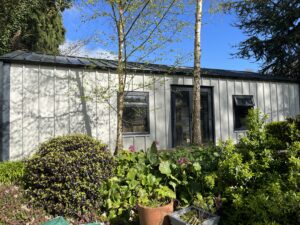 Polly's decision to choose Adman Steel Sheds was influenced by her sister's positive experience with us as well as our transparent pricing, something Polly found lacking on competitor websites.
Exceptional customer service has been an integral component of the success of our collaboration with Polly & Andy. Recognising the demands faced by a busy small business, we place great importance on delivering prompt and efficient service. We strive to create an environment where customers feel at ease reaching out with any questions or requests, ensuring a seamless and supportive experience throughout the entire partnership.
"I found the entire process from start to finish very easy. The customer service was great! When people are coming onto your property, you want someone you can trust. Everyone I dealt with was really nice & friendly"
Installation of Polly's new Adman Steel Garage was completed in just two days, with all of Polly's requests, such as extra height and an additional window, accommodated promptly without hassle.
________________________________________
Game-changing transformation
Partnering with Adman Steel Sheds marked a turning point in Polly & Andy's business journey. In just a few years, Polly's investment in our Thermastore Insulated Garage has already yielded remarkable results for her business, including:
1. Enhanced stock control & management: The spacious, secure and climate-controlled Adman Garage accommodated Polly's growing inventory, packing operations and administrative tasks. This optimised their stock control and management processes, ensuring efficient organisation and easy access to products.
2. Improved work-life balance: The dedicated workspace has allowed Polly to create a clear separation between her personal and professional life. This separation supports a healthier work-life balance, enabling her to focus on business operations during work hours and enjoy quality family time outside of work.
3. Increased efficiency: The customised layout and designated workstations have significantly improved efficiency for Polly and her team. Packing orders has become easier, reducing packing times and minimising errors. This increased efficiency allows them to fulfil customer orders promptly and maintain a high level of customer satisfaction.
4. Expansion and team growth: The new Adman Steel Garage provided Polly with the physical space and confidence to hire a new team member. With the additional workspace and improved workflow, Polly & Andy has been able to expand its operations and bring a new team member on board to support the business's growth.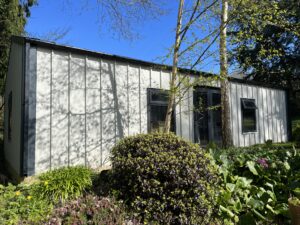 "It has made my life so much easier!"
Overall, Polly & Andy's new Adman Steel Garage has been a game-changer for their business. By addressing the challenges of limited workspace, disorganized inventory, and packing inefficiencies, the Adman Thermastore Garage provides the perfect platform for their growth.
"I couldn't have grown or expanded the way I have without the space"
The secure and dedicated space empowered Polly & Andy to regain control over their stock, streamline operations, and achieve the work-life balance they desired. With renewed focus and efficiency, Polly was able to scale her business, seize new opportunities, and realise the business' true growth potential.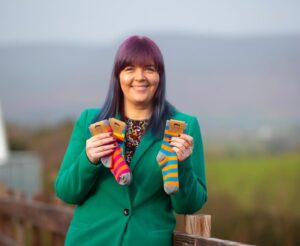 _______________________________________
Ready to see what Adman Steel Sheds can do for you?
Don't allow space constraints hinder your business growth potential. Unlock unlimited opportunities with our custom steel shed solutions.
✔️ Free nationwide delivery ✔️Free installation ✔️Made to order in Ireland
✔️15-year anti-rust guarantee ✔️Free maintenance
Click here to find out more about our Thermastore Range 
Want to make an enquiry – Contact Us here 
Visit Polly and Andy's website here 
Back to news
CONTACT ADMAN FOR MORE DETAILS
Adman Steel Head Office
Ballycanew Road
Gorey
Co. Wexford
Ireland
Our normal opening hours are:
Monday to Friday – 8am to 5pm
Saturdays – 10am to 4pm
Sundays and Bank Holiday Mondays – Closed