Transforming Your Garden into a Home Office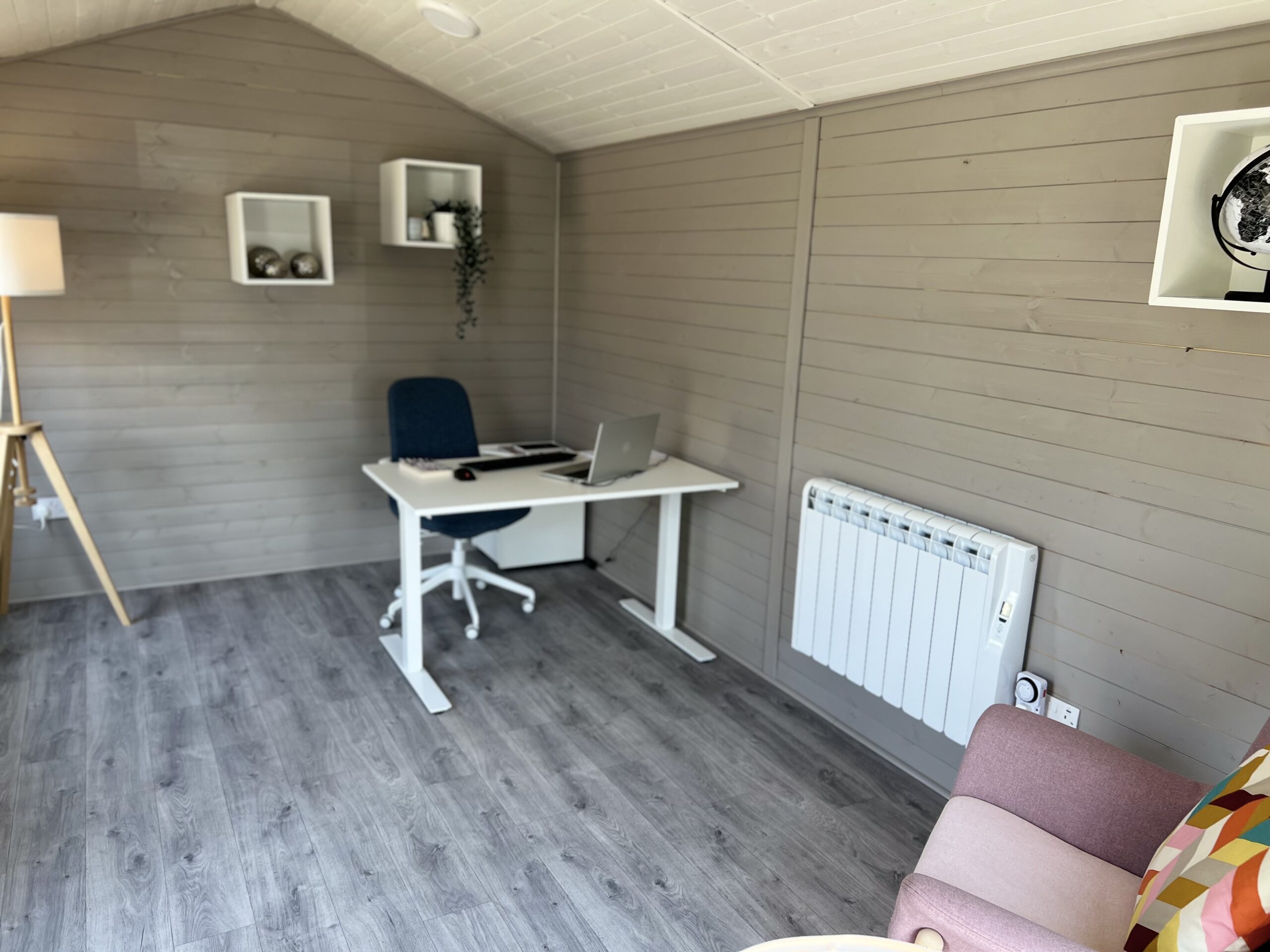 Transforming Your Garden into a Home Office
In today's fast-paced world, the concept of remote work and flexible working arrangements has gained significant popularity. As more individuals seek a productive and peaceful work environment, the idea of a garden room outside as a home office has become an enticing option (and for some a necessity). Combining the tranquillity of nature with the convenience of a dedicated workspace, Garden rooms offer a unique solution for those looking to create a harmonious work-life balance.
Our Multiroom Garden Rooms offer that Balance with a choice of sizes, colours, interior finishes and flexible build options.
In this post, we will explore the benefits of a Garden room as a Home office and provide some tips for designing a functional and inspiring outdoor workspace.
Separation from Distractions:
One of the challenges of working from home is the potential for distractions. A garden room provides a dedicated Home Office space away from the hustle and bustle of the main house, enabling you to establish clear boundaries between work and home life. By physically separating your workspace, you can minimize interruptions and maintain a professional mindset, ultimately boosting your efficiency.
The Serenity of Nature:
Working in a Garden room allows you to immerse yourself in the beauty of nature. The serene surroundings and fresh air can enhance your focus, creativity, and overall well-being. The gentle sounds of birds chirping, the rustle of leaves, and the natural light filtering through the windows can create a calming atmosphere, reducing stress and promoting productivity. We provide a choice of Window & Door Options including Double glazed PVC pedestrian and French doors along with large and small window options plus a choice of colours.
Increased Productivity:
Designing a Garden room specifically for work ensures that you have a conducive environment for productivity. Consider ergonomic furniture that promotes good posture and comfort during long working hours. Incorporate ample storage solutions to keep your workspace organized and clutter-free. Additionally, reliable Wi-Fi connectivity and adequate power outlets are essential for seamless remote work.
Customized Design and Flexibility:
Garden rooms offer a versatile canvas for creating a customized home office. You can choose the layout that aligns with your personal preferences and functional needs. Whether you prefer a modern, minimalist design or a cosy, rustic ambiance, the options are endless. Moreover, garden rooms can be easily adapted for multiple purposes, such as hosting meetings, conducting virtual conferences, or even serving as a creative studio. Our design interior layout below, offers one option with working space at one end and a "creative thinking" area at the other end.
Integration of Technology:
To ensure a seamless work experience, it is crucial to integrate technology into your garden room home office. Having adequate electrical outlets for your devices is essential and invest in reliable Wi-Fi extenders to maintain a strong internet connection. All of our electrical work is fully Certified.  Each Garden Room is Fully wired with sockets and lights ready to be connected to mains electricity. Sockets with USB charging points are also available. All electrical work is certified by a registered electrician.
Conclusion:
Creating a garden room outside as a home office offers an exciting opportunity to merge the beauty of nature with a productive work environment. From the serenity of the surroundings to the separation from distractions, garden rooms provide an ideal space for focused and inspired remote work. By carefully designing and customizing your garden room to meet your specific needs, you can transform your outdoor workspace into a sanctuary of productivity and serenity. Embrace the possibilities and unlock your full potential in the comfort of your garden.
Our Garden Rooms start from only €8,395 and include: Fully Insulated Walls and Roof, Heavy Duty Tongue and Groove Panelling, Delivery and Professional Assembly.
Our completed Home Office is available to view at our Head Office on the Ballycanew Road just outside Gorey Town.
Click here to visit our Garden Rooms page to find out more
Back to news
CONTACT ADMAN FOR MORE DETAILS
Adman Steel Head Office
Ballycanew Road
Gorey
Co. Wexford
Ireland
Our normal opening hours are:
Monday to Friday – 8am to 5pm
Saturdays – 10am to 4pm
Sundays and Bank Holiday Mondays – Closed