Passion Turned Profession – Fueled by Adman Steel Sheds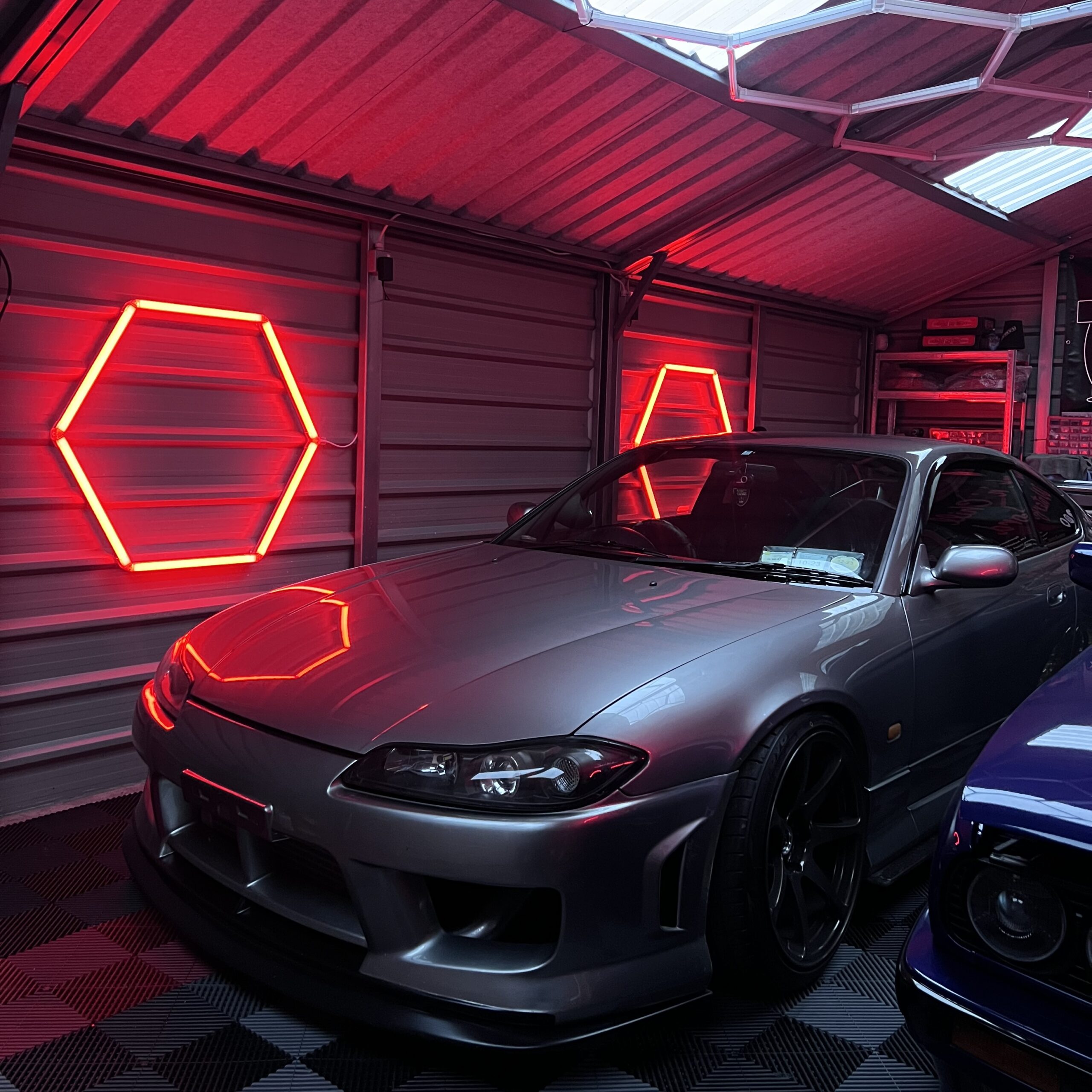 Passion Turned Profession – Fueled by Adman Steel Sheds
How Adman Steel Sheds helped Park 'n' Chill Waterford fuel their mission to revitalise Irish car culture and create the ultimate car enthusiast experience in Ireland.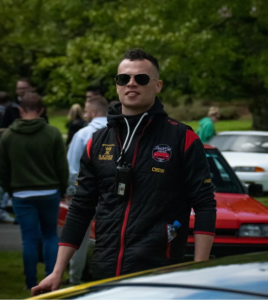 Meet Eamon Casey Power | Park n'Chill Waterford
Founded by Eamon Casey Power in 2019, Park 'n Chill Waterford are a group of passionate car enthusiasts on a mission to showcase and revitalise Irish car culture and restore it to its former glory.
Their love of cars is what drives them, and they believe it has the power to bring a community together. The group has quickly become a hub for car enthusiasts in the Waterford area and nationwide. They offer a space for like-minded individuals to come together, relax, and enjoy their shared love of cars.
Their events range from car shows and exhibitions to charity car runs, road trips and motorsport events across Ireland. But no matter what they're working on, their focus remains on supporting local businesses and fundraising for their chosen charities.
To achieve their goals, they needed a reliable and secure place to store and work on their cars.
That's where we came in.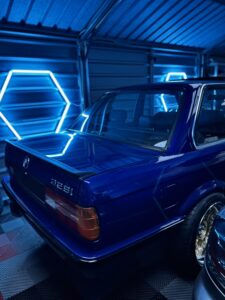 Park 'n' Chill Waterford approached Adman Steel Sheds with a unique requirement – a custom solution to protect and keep dry their valuable assets while creating a designated workspace for car restoration and customisation projects. The garage had to be spacious enough to accommodate multiple cars, allow for ample natural light, and offer sufficient space for car maintenance and restoration.
"Having some expensive cars sitting out in stormy weather is never a good idea, so having the option to park them indoors safely is definitely the best feature of Adman Steel Sheds".
After an initial one-on-one consultation, our team recommended one of our bestsellers, the Durastore Steel Garage. This state-of-the-art maintenance free shed comes equipped with a roller garage door, enabling effortless entry and exit.
"I couldn't believe how fast it went up, I'd say it was close to 3hrs. The quality of the shed is also amazing."
One of the most significant advantages of our Durastore model is its robustness to withstand the most extreme conditions. The garage has a build quality and strength superior to any other building of its type.
The design of Park 'n' Chill Waterford's new garage isn't just about functionality. It's about creating an appealing & on-brand experience for their team and customers.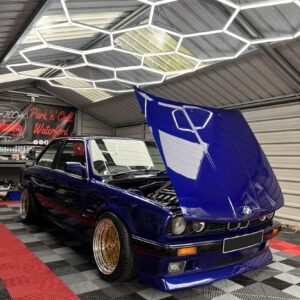 To help transform the shed from a workstation to a showroom display, Park 'n' Chill enlisted the expert help of Tuff Tile Flooring and Lighting, which looks pretty spectacular as seen in the photo below.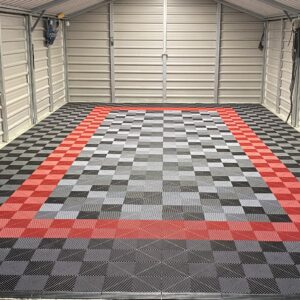 This new showroom design allowed the team to expand operations and explore new opportunities by providing a dedicated space for a wide range of activities, including Park 'n' Chill BBQs, music videos, group meetings, a home gym and barbershop, car storage, car restorations & modifications, and most importantly, a space for the team to unwind.
The opportunities haven't stopped there. Park 'n' Chill' Waterford's new garage has also been a catalyst for exciting partnerships. One of their latest collaborations was with Munster Tint.
"Recently, we teamed up with Munster Tint, who specialise in car wrapping and tinting. They came down one Saturday and completed some work on a few of our cars. Partnerships like this wouldn't have come to fruition if I didn't have the garage".
These partnerships are just the beginning.
Thanks to their new Adman garage, Park 'n' Chill Waterford is building connections with other car enthusiasts and businesses and strengthening their position in the Irish car community. Who knows what other doors this garage will open in the future?!
Ready to see what Adman can do for you?
Turn your passion into a profession and fuel endless opportunities with our custom steel shed solutions.
✔️Free nationwide delivery✔️Free installation✔️Made to order in Ireland
✔️15-year anti-rust guarantee✔️Maintenance Free
Visit our Durastore page here for more details on prices, sizes and options available.
Back to news
CONTACT ADMAN FOR MORE DETAILS
Adman Steel Head Office
Ballycanew Road
Gorey
Co. Wexford
Ireland
Our normal opening hours are:
Monday to Friday – 8am to 5pm
Saturdays – 10am to 4pm
Sundays and Bank Holiday Mondays – Closed