Driving Success for McKenna Golf Academy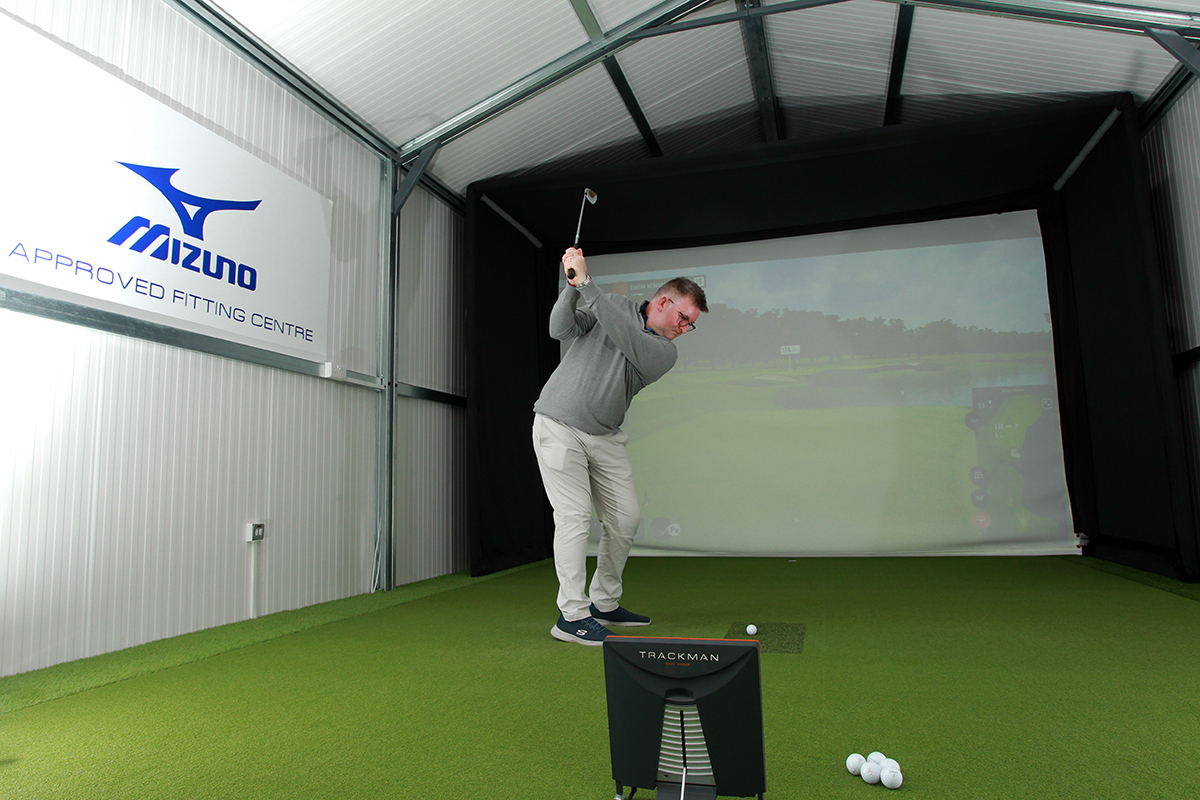 Driving Success for McKenna Golf Academy
Driving Success: How Adman Steel Sheds helped McKenna Golf Academy break seasonal barriers & provide an exceptional year-round golfing experience.
Our expert team provided McKenna Golf Academy with an custom indoor golf studio capable of enduring and adapting to the unpredictable Irish seasons. This new facility enabled the golf academy to broaden its range of services and deliver exceptional customer experience throughout the year.
Meet Ciaran McKenna | McKenna Golf Academy
McKenna Golf Academy was set up in August 2022 by qualified PGA professional Ciaran McKenna to offer 1:1 and group golf lessons to players of all levels.
Based in Mallow, Co. Cork, Ciaran noticed a significant gap in the market for a dedicated golf facility in the area.
With his extensive background & experience in the sport, Ciaran understands the importance of personalised instruction and feedback and created a unique indoor golf studio tailored to his customer's needs.
His Steel Shed studio is equipped with the latest Trackman technology, allowing him to analyse every aspect of a golfer's swing and provide targeted feedback to help them improve.
Customer comfort and experience is the driving force behind Ciaran's business. His approach is rooted in a deep understanding of the game and a passion for helping others succeed. His new custom Adman-built indoor studio is now a popular destination for golfers looking to take their game to the next level.
Swinging for all seasons
Golf is heavily influenced by seasonality.
In many parts of the world, golf courses and academies are often closed during winter due to harsh and unpredictable weather conditions. This poses a significant challenge for businesses in the golf industry as they have to find ways to maintain revenue streams and engage customers during the off-season.
To overcome this challenge, many golf businesses have turned to innovative solutions such as indoor golf simulators, virtual golf leagues, and customised steel studios that allow them to offer a year-round golfing experience to their customers.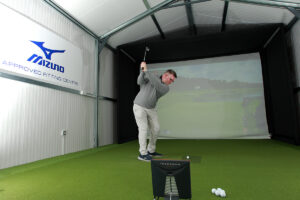 And that's where we come in.
We provide tailored, made-to-order solutions to businesses and individuals requiring a custom-built approach.
When Ciaran approached us, his primary requirements were to:
✔️ Design a studio that would accommodate his state-of-the-art Trackman technology
✔️ Provide a fully-insulated indoor space to enable customers to practice golf all year round
✔️ Offer a convenient location close to his home to reduce commute times and stay close to his family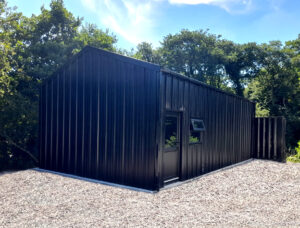 "An indoor studio takes the weather out of the equation, which is a game-changer"
 – Ciaran McKenna
Breaking season barriers
Following an initial 1:1 consultation, we worked closely with Ciaran to design a custom indoor golf studio to meet his needs.
The studio needed to be large enough to accommodate his state-of-the-art Trackman technology, provide ample natural light, and ensure adequate ventilation for indoor golf practice.
We recommended our Thermastore Insulated Steel Garage, which features a clear-span design, allowing for an unobstructed playing area, and natural light floods the space, creating an outdoor-like ambience.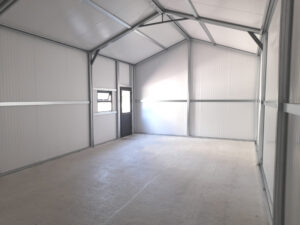 The studio is also fully-insulated, allowing fresh air to circulate and ensuring a comfortable and safe environment for golfers to practice in, regardless of the weather.
 "Working with Adman was seamless. The set-up & aftercare was 10/10"
-Ciaran McKenna
Creating pitch-perfect
Following his studio installation, Ciaran witnessed instant results in his business and personal life.
The seasonality of the business expanded all year round, eliminating dependence on weather conditions. This has allowed the business to operate even during inclement weather conditions.
Moreover, the studio's comfortable environment has led to satisfied customers who can play all year round. The expansion has also opened up new opportunities for the business to offer group sessions and tournaments throughout the year, thanks to the recommended extra 2 meters of space.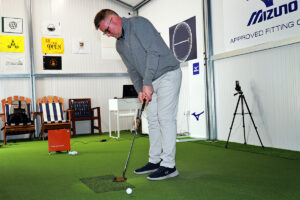 Finally, Ciaran's decision to open the studio outside his home has given him a better work-life balance, allowing him to work on his own schedule while still giving him the security he needs.
All these outcomes have contributed to McKenna Golf Academy's success and have set the stage for continued success. We are excited to see what the future holds for Ciaran and his golf academy.
 "Business has skyrocketed from where I was to where I am now"
– Ciaran McKenna
Ready to see what Adman Steel Sheds can do for you?
Don't let seasonality limit your potential.
Unlock unlimited opportunities with our custom steel shed solutions.
✔️ Free nationwide delivery ✔️Free installation ✔️Made to order in Ireland
✔️15-year anti-rust guarantee ✔️Free maintenance
Contact us today for more Information
Back to news
CONTACT ADMAN FOR MORE DETAILS
Adman Steel Head Office
Ballycanew Road
Gorey
Co. Wexford
Ireland
Our normal opening hours are:
Monday to Friday – 8am to 5pm
Saturdays – 10am to 4pm
Sundays and Bank Holiday Mondays – Closed